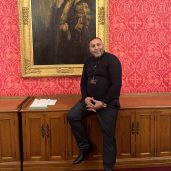 National Health and Justice Lead
Why you are motivated to be involved and support the organisation's mission and objectives?
I am motivated to work with Career Matters due to fact that most of the team have lived experience of Criminal justice and Care experience. That in it self is motivating as it is genuine and inspiring to see. I believe in the ethos of Career Matters Missions and Objectives to create a more inclusive workforce for individuals that are disadvantaged in getting into careers especially people with lived of experience of the criminal justice and care system. This I find very interesting and believe that it inspires 'hope' for individuals that are experiencing challenges in life. I know through first-hand experience as a person that has been through the criminal justice system - the barriers we face to get into employment and career progression.
Role at Career Matters
I am the National Health and Justice Lead for Career Matters who work across health, justice, social care and education. Career Matters has been commissioned by NHS England to design, develop, pilot and roll out nationally. Part of my remit is to lead on engagement and stakeholder management of services that are applying for Lived Experience Charter status. I lead on the multi-disciplinary assessment panel bringing together practitioners and people with lived experience to assess applications to the Lived Experience Charter. My role also includes;
Health and Justice Lead Nationally with stakeholders working to improve lived experience through co production, design and development of new projects.
Health and Justice Lead on Thrive digital platform connecting the secure and detained estate with employment opportunities for people with lived experience of criminal justice.
Headline experience
Peer Mentor and Lived experience practitioner Personal lived experience of the criminal justice system and health services. I was one of the first peer mentors for the Liaison and Diversion service in Birmingham and help set up the prison pathway alongside commissioners. Due to four years of hard work to establish a robust prison pathway out of HMP Birmingham in the next financial year the service will be an official NHS Reconnect site. Trainer I have trained staff in the criminal justice and substance misuse services about gang culture and the impact of addiction on communities. Learning styles to work with this cohort and understanding it from a trauma informed way and understanding the complexity that comes with this community by understanding the underlying concepts. I created a training resource for Health Education England on how to implement lived experience workforce in the criminal justice and mental health services. A step by step guide in podcast format for services to recruit individuals in to service delivery with criminal justice backgrounds.
Passion
My overall passion is to support in shaping local and national policy related to health and justice services to have equitable health systems, inclusive criminal justice pathways and wider representation of lived experience in the workforce.