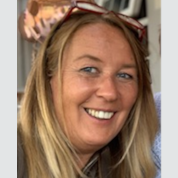 Project Manager
Why you are motivated to be involved and support the organisation's mission and objectives?
I am committed to improving talent pathways and bring a wealth of experience across all areas of recruitment and talent management.  I believe that every young person deserves the opportunity to kick start a rewarding future.  The future of too many young people is determined by background not potential. I want the opportunity to connect young people to the world of work from any kind of background, providing them with workplace experiences, career insights and a network of support giving them the platform to develop new skills, grow their confidence and find the right career path for them.  I have worked with Hannah on two technology projects to date and I am looking forward to our new diversity and inclusion technology Thrive and its future development.
Role at Career Matters
Lorna Bruce is the Project Manager at Career Matters, overseeing established projects.  Bringing significant experience of successful delivery of complex transformation projects across global businesses, strategic talent development, from attracting and hiring the very best talent and change management.
Headline experience
Group Head of Resourcing and Talent – Azets.
Operations Director – Capita Education, Healthcare and Social Care.
COO Apprenticeships and Skills based Learning.