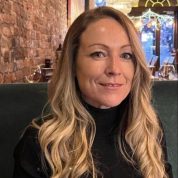 CEO/Founder
Why you are motivated to be involved and support the organisation's mission and objectives?
Career Matters
is made up of an incredible team. The Advisory Board bring drive, commitment, and experience from a variety of sectors and our Ambassadors Board are passionate and dedicated to improving outcomes. The team are committed to the delivery of high-quality career services through traditional career practice, complemented by our hybrid models which utilise digital technology applications to improve accessibility, inform service delivery and to fulfil the demands for the Future World of Work. Career Matters is a social enterprise which exists to improve access to career development opportunities for all. Working in partnership with education providers and employers, we create inspirational experiences and events backed by progression routes into career sectors. Our new technology platform
Thrive
has been created to support young people and adults with experience of local authority care. Care leavers, or those who are 'care experienced' face a series of barriers in life and we wanted to provide a practical solution of support enabling access to learning; personal development; peer support; employers; career coaching and a variety of planned developments to inspire, support and connect.
Role at Career Matters
Hannah Kirkbride, Founder and CEO oversees strategy and partnership development at Career Matters. Bringing over twenty years' experience both as a career, skills and apprenticeship practitioner, delivering high quality support and as a senior leader delivering services across the UK and globally. Hannah set up Career Matters in 2016 to further research, design and develop technology solutions to support social mobility, career service delivery and to create inspirational pathways between education and employment sectors.
Headline experience
Personal Adviser at Greater Merseyside Connexions Partnership working as an Education and Community practitioner with schools, colleges, universities, HMP, secure, Alternative Education creating partnerships and opportunities for young people and adults.
Established the Capita Career Advisory Service (CAS) at Capita Education Resourcing (CER) in 2013, delivering career and employability contracts to employers, schools, colleges and universities across the UK. The success of the Career Advisory Service led to the development of the Capita Apprenticeship Service working with clients including further education colleges, awarding bodies and national employers.
Head of Army in Education to lead the career service delivery across the Recruiting Partnership Project at the British Army and was responsible for strategy and implementation across 73 Army Career Centres. Hannah led the technology design and development process to improve education engagement, including a skill-matching design to target skills engagement and attraction.

Lead on workforce development innovation project 'The Lived Experience Charter' commissioned by NHS England.