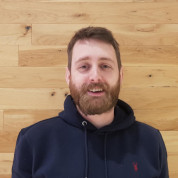 Developer
Role at Career Matters
My role at Career Matters allows me to take on all aspects of software development, from writing the code that creates the online learning platform, to creating the infrastructure that allows users to access the content.
Why you are motivated to be involved and support the organisation's mission and objectives?
In my work, I aim to support projects that improve outcomes for others. In previous job roles, I have worked providing IT support to young people in foster care and when the opportunity to work with Career Matters to possibly improve outcomes for these young people I was keen to be involved.
Headline experience
Simon graduated with a degree in Computer Science in 2014 and began working in software development in Higher Education. Simon was responsible for delivering mass online learning for university students, developing innovative ways of delivering content. Since leaving this role, Simon has utilised his knowledge of online learning delivery to design and implement online learning platforms and websites for a number of clients.