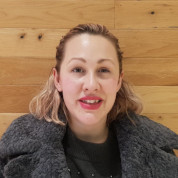 Developer
Role at Career Matters
My role is to interpret the innovative ideas for career services delivery from shareholders and liaise with Simon, the developer, to turn the Career Matters' vision into actual software. Together with the team, we have designed and delivered the Career Matters' website and platform, more recently the Lived Experience Charter digital platform, bringing together Hannah's vision with our knowledge of how to successfully deliver software development projects. I work closely with other members of the team to ensure that the software meets the outcomes needed to support those accessing Career Matters' services.
Why you are motivated to be involved and support the organisation's mission and objectives?
When I heard about Hannah's project, I felt passionate about working with Career Matters to create and develop software that supported positive career outcomes for people of all ages, especially those leaving care. From working with Hannah, her passion for careers services shines through in all she does and I am proud to support Career Matters in delivering their guidance and coaching.
Headline experience 
As a teacher training graduate, Hannah entered a career in teaching in the hope of making a difference to the lives of children. Several years later, she embarked on a new career, combining her wish to make a difference, and knowledge of the education sector, with software development. Hannah utilises her knowledge from working in the education sector, interpreting project briefs and designing software, in combination with her passion for making a difference in the lives of children and young people.