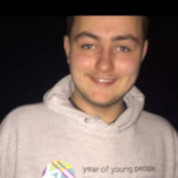 Ambassador
Role at Career Matters
I am a part of the ambassador board created to help make change.
Why you are motivated to be involved and support the organisation's mission and objectives?
I am motivated to be involved because I want to help steer the group to help make change in England but also to support the group by bringing my experience of changing the care system in Scotland.
Headline Experience
I've had various experiences from working closely with the Scottish government  throughout the independent care review to being a part of international research groups and steering groups. I am very involved with the care experienced charity in Scotland and do a lot of work to support them