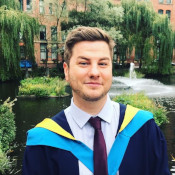 Ambassador
Role at Career Matters
I have joined Career Matters as an 'Ambassador' because as a care experienced person (CEP) and someone who has struggled educationally in my younger years, I know only too well that the right support can make all the difference. I am also well aware that care experienced people must be represented as much as possible in services and policy making which affects them both directly and indirectly. I believe wholeheartedly that everyone has the potential to flourish. Sadly, the starting blocks are not equal for everyone and so some may take longer to get there, but they most definitely will, and Career Matters works hard to make this happen.
Why you are motivated to be involved and support the organisation's mission and objectives?
As an ambassador, my role is to help publicise the organisation so that it reaches those for whom it is intended. People like you, people like me, people who have the ambition, drive and motivation to set themselves on a path of success. Having had that personal experience of care, I know only too well of the pit falls we face in life and the additional obstacles we must overcome. Care experienced voices are essential in providing services for care experienced people. Our voices will contribute toward pushing for change and to increase positive outcomes for those that have been in care or for those whose education may not have been conventional.
Headline experience
I grew up in care from age 8 before living independently from 16, when support was cut off from the local authority. I attempted university a couple of years later but really struggled as my need to navigate and survive everyday life was stronger than the need for an education. However, this was always a huge regret for me and so I tried again when I was a bit older and eventually graduated from The Open University (aged 34) with a Bachelor of Science (Hons) Psychology degree. The pride I felt in completing my degree whet my appetite for further study and 2 years later, I have started a second undergraduate degree in Biology as well as a Master of Science degree in Mental Health Science, both of which I am currently undertaking. I came to realise that learning is a lifelong journey and actually, it can be enjoyable!! Unlike my earlier years, where I was very unsupported, I now have passion for education and feel a strong sense of satisfaction in my achievements and this has helped me connect with a wide support and peer network. My original psychology degree has opened up doors for me in ways I couldn't ever have imagined. I went from working in hospitality and retail (which I did not particularly enjoy) to working in Higher Education. I am currently employed by The Open University as a Senior Advisor in the STEMA team (Science, Technology, Engineering, Maths and Access). My role is to provide support and advice to students, empowering them to make informed decisions about their educational journey. My position as both a former and current student and more recently employed as a Senior Advisor, provides me with multiple perspectives and has given me great insight. I am passionate about ensuring that every person has the opportunity to learn - whether that be skills, qualifications or life experiences and it is that which has drawn me to Career Matters. An added bonus is the remarkable team I work alongside who share my passion, perspectives and outlook. Both front facing staff and those behind the scenes are incredible people committed to supporting young people and providing opportunities that we ourselves may have missed out on in our younger years.